Wayfinding Design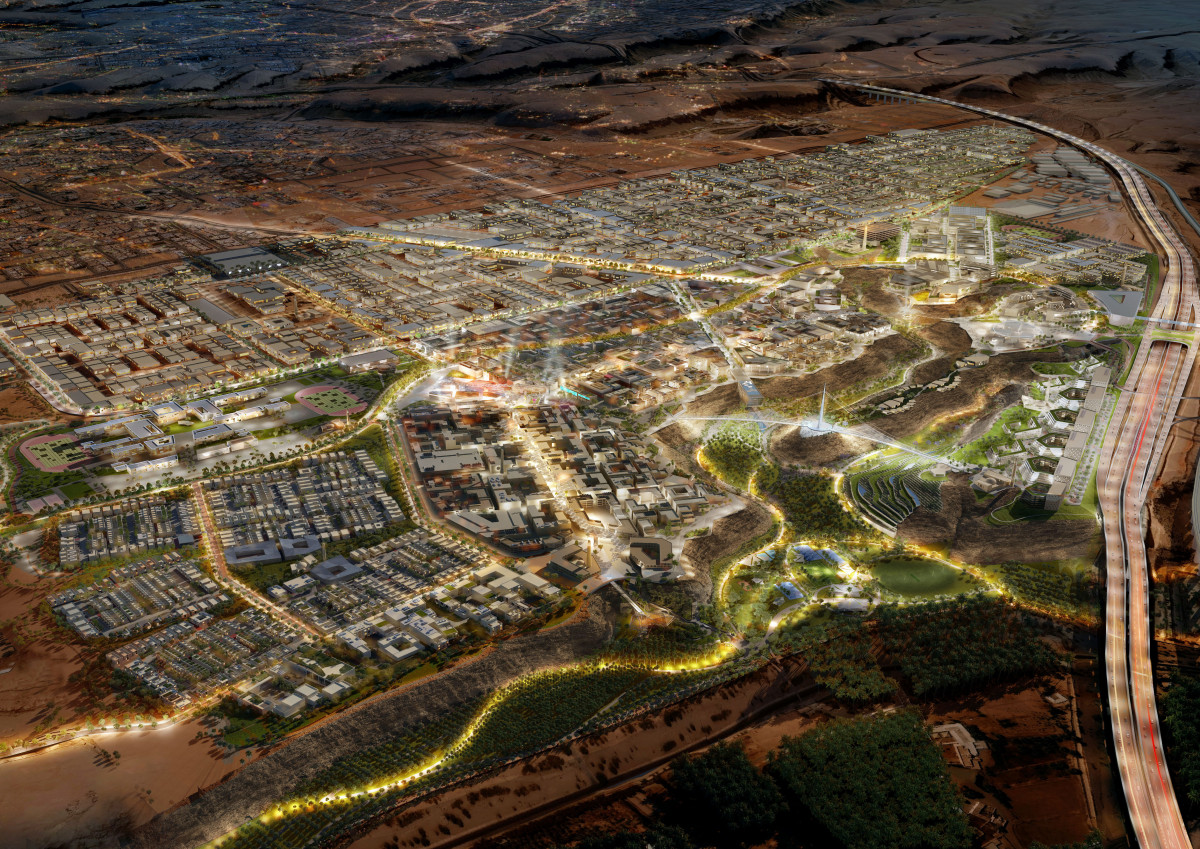 Wayfinding for the smart city of the future
Part of Saudi Arabia's 2030 vision, Misk City is a destination city spanning 3.4 sqkm set across three plateaus, connected by bridges, that overlook a dramatic gorge that forms part of the ancient Wadi Hanifah and lead towards the future palaces of Mohammed Bin Salman.
A hybrid of Arabian engineering cutting-edge technologies, and sustainable landscaping, Misk City is designed to be one of the first truly walkable cities in the Kingdom; it boasts a pleasant climate year round, interconnected transportation, and kaleidoscope of distinctive neighbourhoods nestled between landscaped greenspaces.
A perfect ecosystem where technology, ecology and wellbeing coexist in harmony, the city aims to attract talented individuals and families, inspire and cultivate creativity, and enhance quality of life through its open–focus of the future, and respect for its culture in this ancient land.
Our Task
Our task was to create an equally ambitious wayfinding scheme, that would stretch across the smart city's landscapes, encouraging residents and visitors to explore its attractions through slower modes of mobility – particularly by foot or bicycle.
Changing the habitual instinct to drive would require a wayfinding solution that could promote and build awareness of where and what mobility links exist – inspiring people to consider slow mobility as more convenient and enjoyable.
With a challenging topography, Mima understood that improving the legibility of the city would be critical to ensure people felt able to explore without worry of getting lost.
Finally, with the city playing host to future global summits around security and innovation, wayfinding would need to consider how to weave in temporary event signage, with minimal clutter or disruption.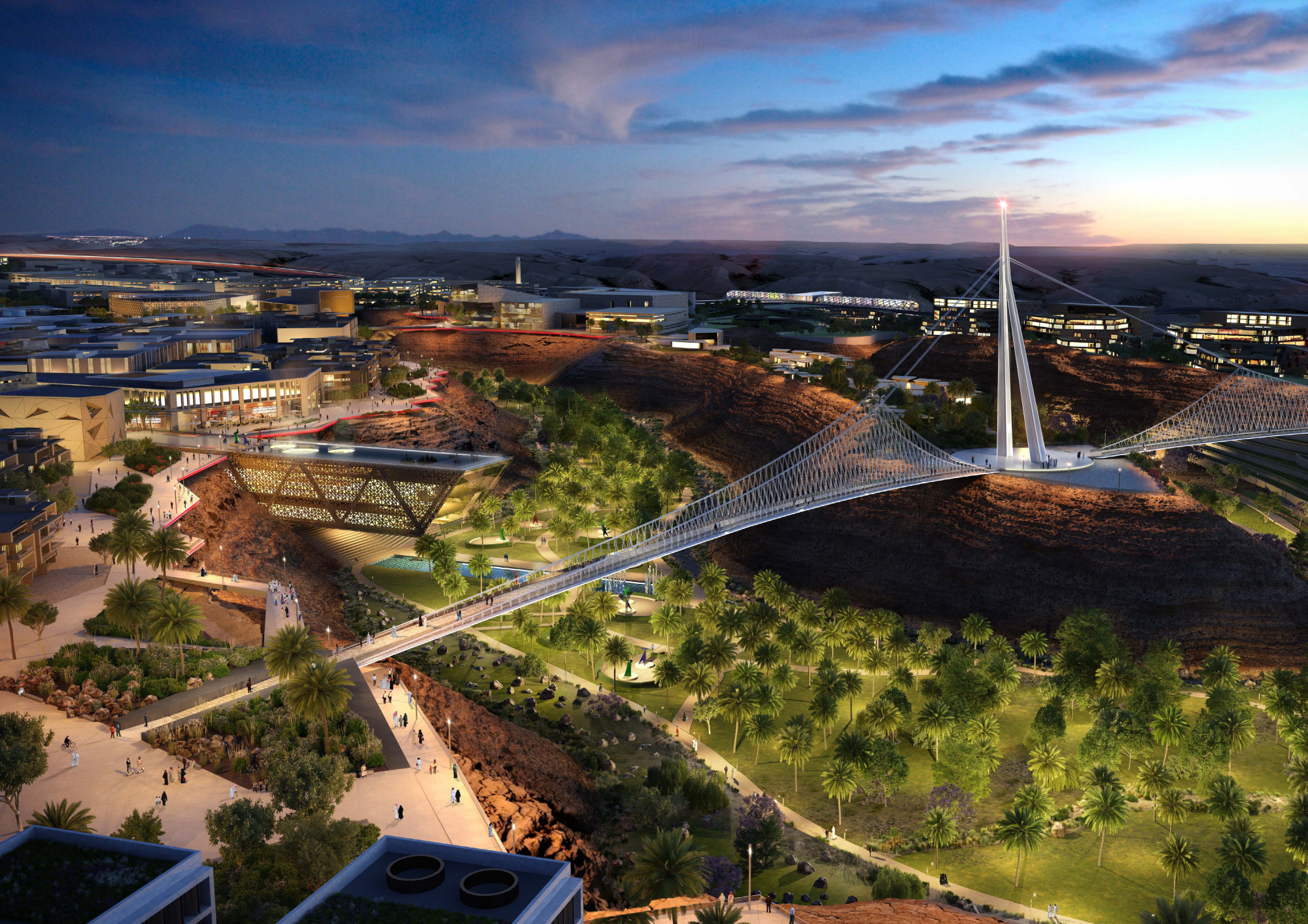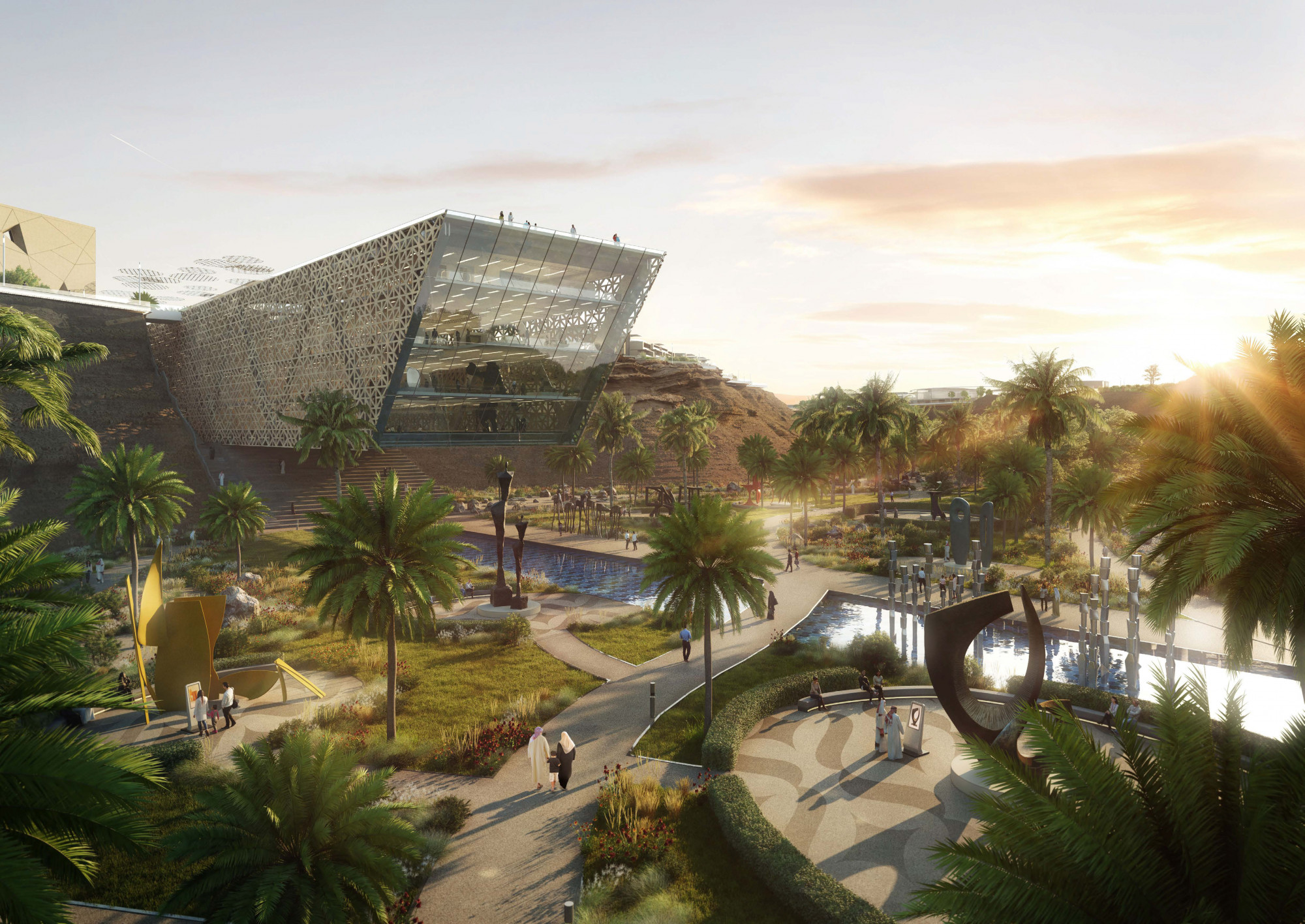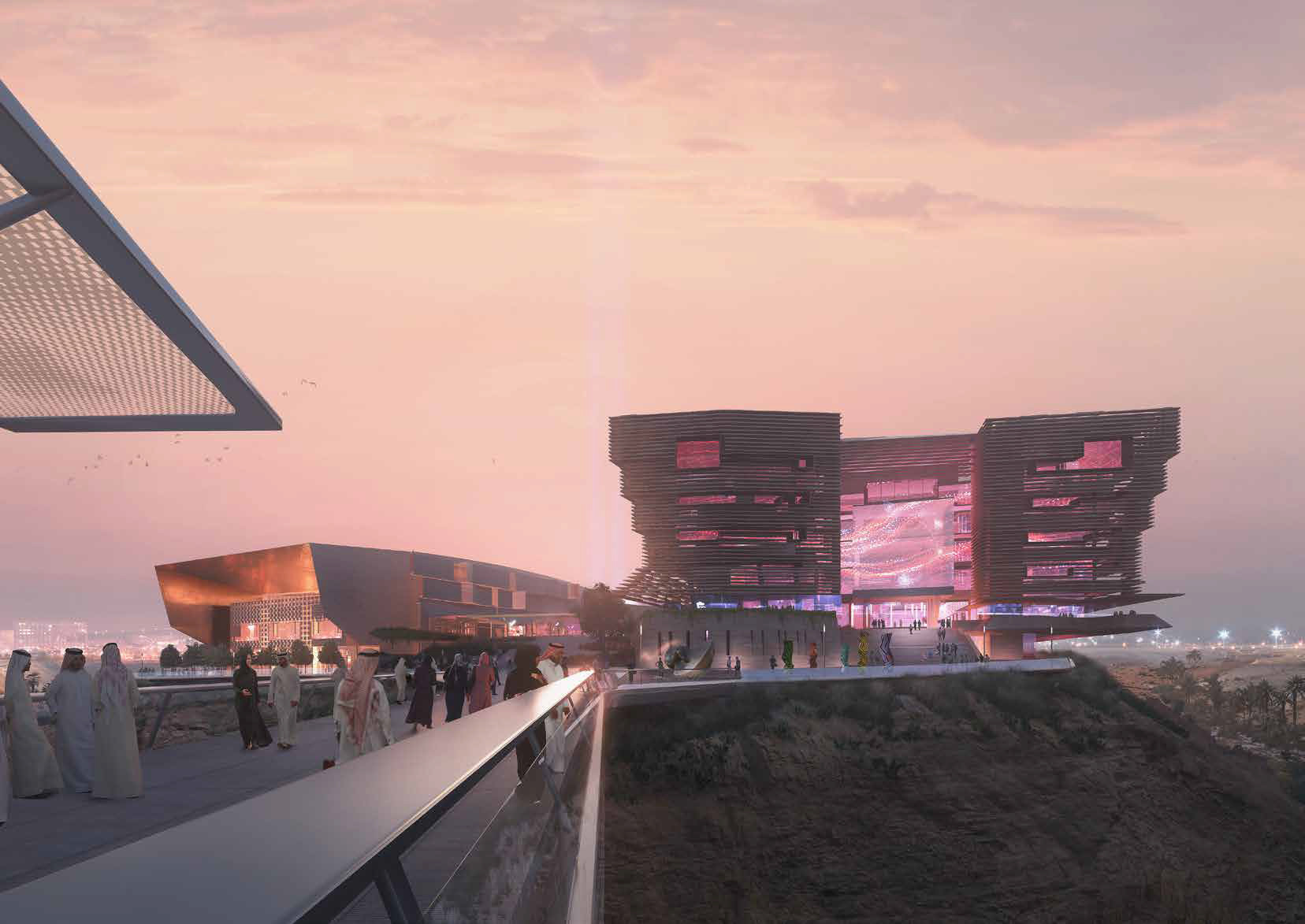 Our Solution
The wayfinding strategy aimed to reinforce this unique place, by promoting opportunities, and modes of travel within Misk City, inclusively, intuitively and intelligently for local and visiting pedestrians, commuters, drivers, cyclists, and people with reduced mobility alike.
To improve accessibility, urban legibility, inclusivity and in turn wayfinding, throughout the city and particularly at critical junctions – Misk City has been divided along the main entry road and wadi edge to create three distinct sub-regions, in geography, architecture and character, that are also intuitive to understand and easy to learn.
By identifying decision and cluster points, optimal wayfinding products Mima positioned in prime locations to aid navigation for those who need it, at that point – reassuring users and disclosing only what is necessary to assist them to their destination.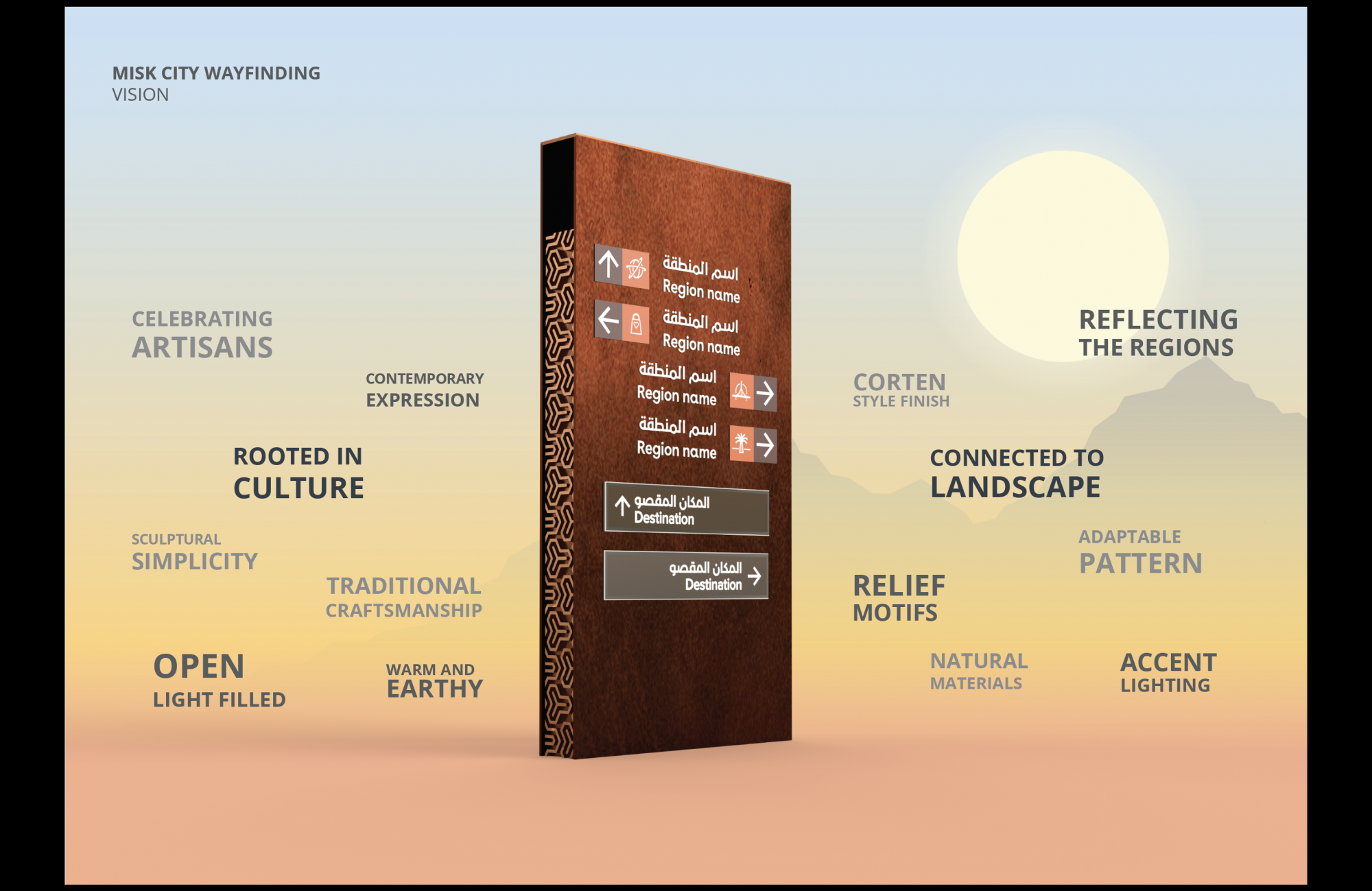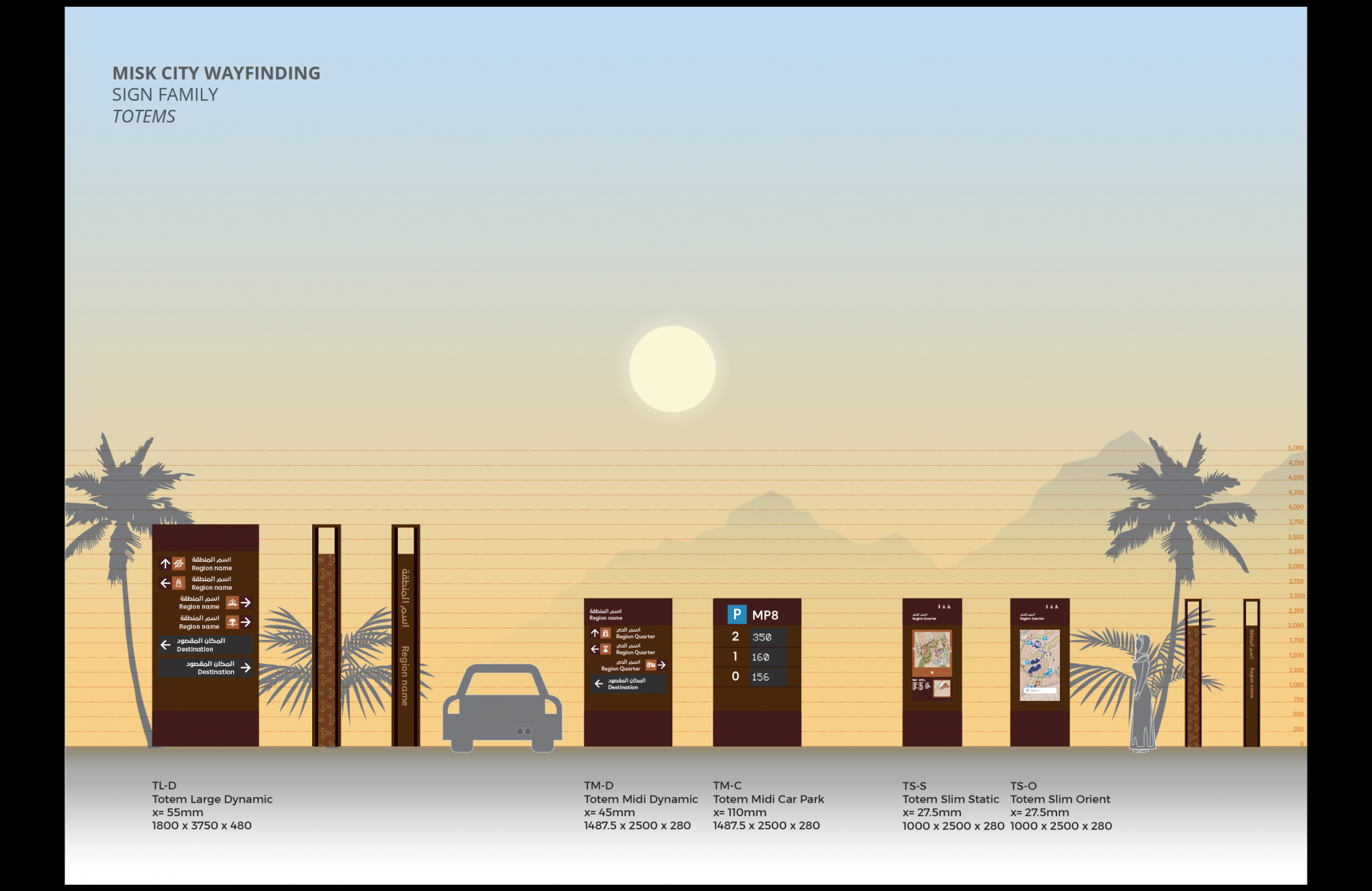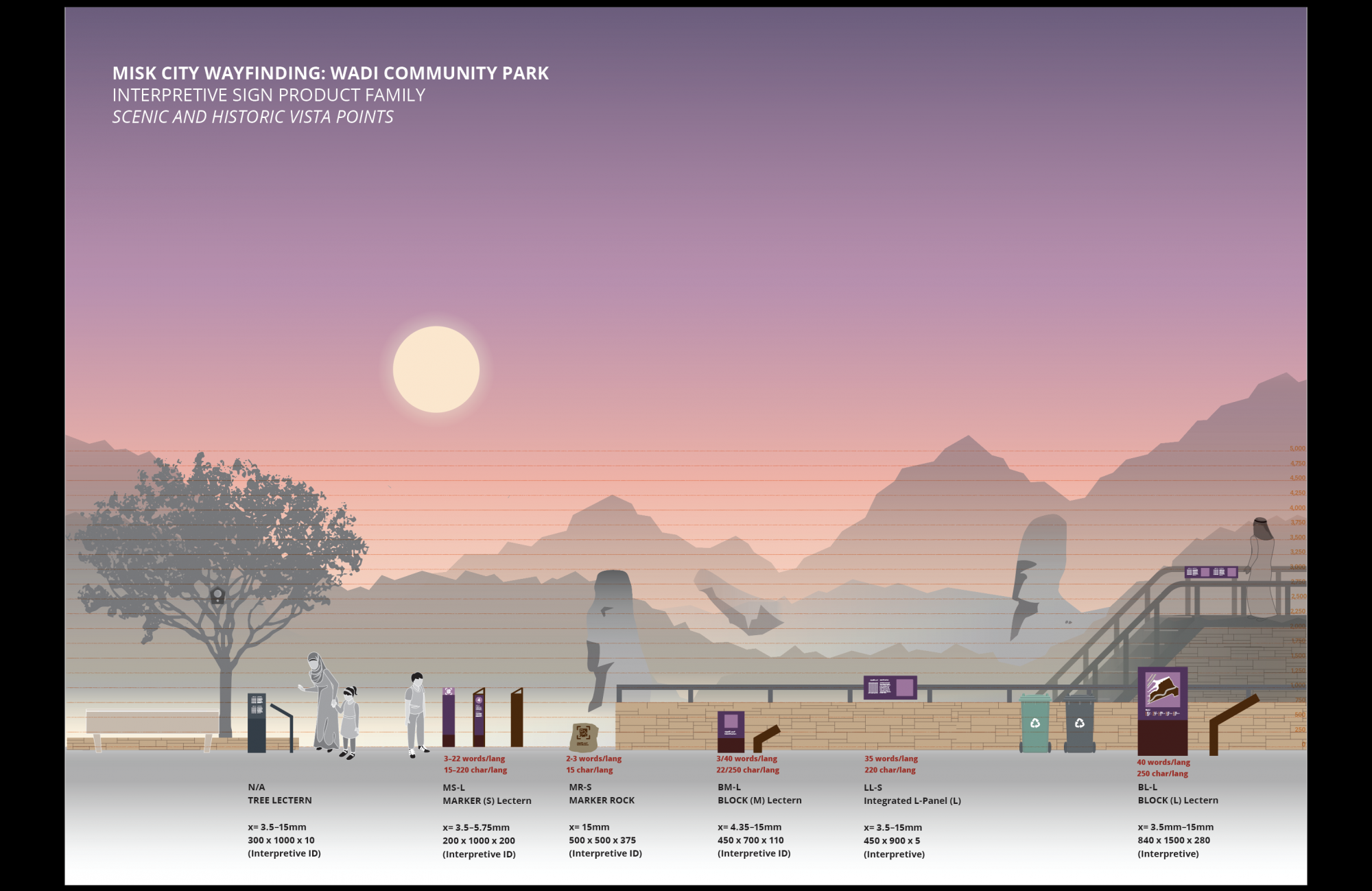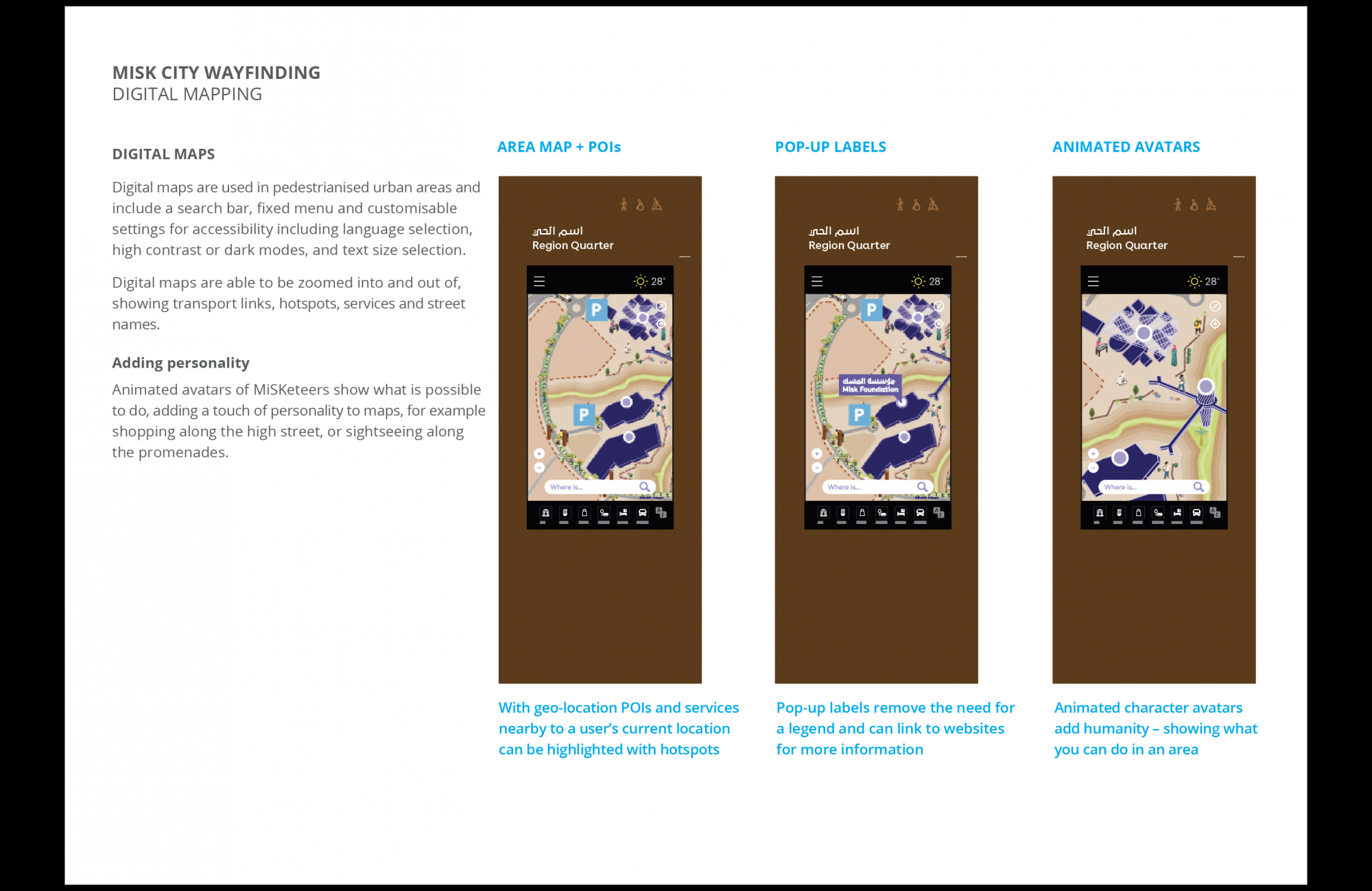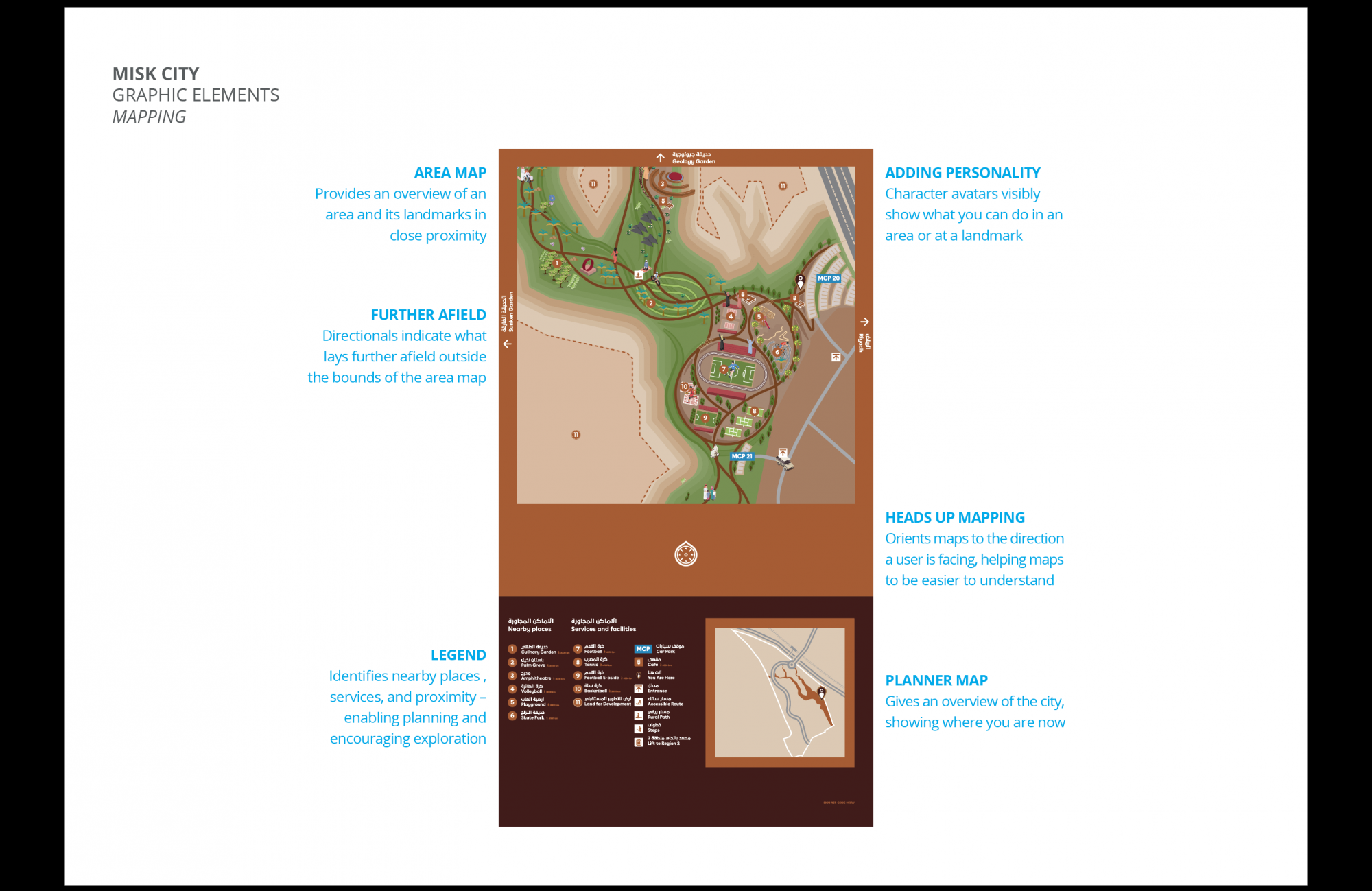 Our Solution
Wayfinding is strategically placed to aid onward travel and to inspire exploration. Maps use animation to depict activities that could be enjoyed in an area; whilst walking/cycle radii show what is nearby by foot/bicycle.
A minimalist design aesthetic uses open forms and dual language scheme to reflect the open nature of the city. Integrated smart elements on directional and mapping products, allow for dynamic and updatable content – ideal for navigating towards events or seasonally popular destinations without need for additional temporary signage.
Improving urban legibility, the city is divided into regions that are led by the topography, and uses naming and graphic patterns inspired by the character of neighbourhoods to create distinct identities for these regions.
The result is a wayfinding scheme which is borne of place, open, and innovatively weaves in smart technologies to create a seamless and ambitious wayfinding experience.