Our Thinking
Design that connects us
Urgent & Collaborative Change the Only Solution for the EV Revolution 
The government announced in February of this year that it's launching a consultation on electric vehicle (EV) charging.
With the sale of new petrol and diesel cars to be banned as of 2030, it means in less than nine years time the number of electric cars on UK roads is expected to rise from 210,000 to approximately 12m in 2030.*
Soon, millions of UK drivers will be dependent on a charging infrastructure that is currently expensive, fragmented and no way near fit for purpose.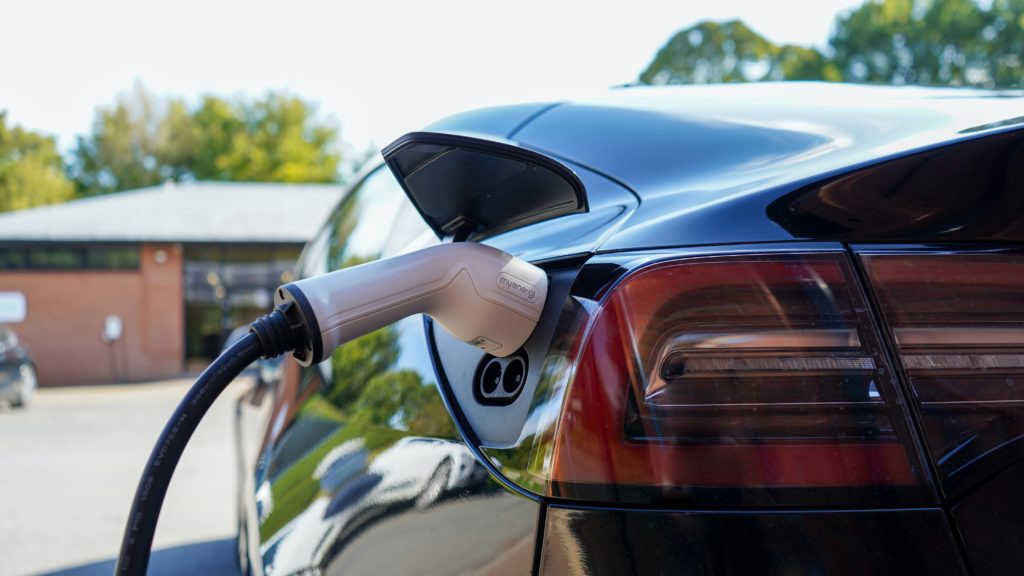 As it stands, the charging infrastructure is riddled with issues that need to be addressed urgently in order to provide the simple, scalable, intuitive and easy to use system that gives potential EV buyers the confidence they need to make the leap to electric and won't render the electric vehicle experience a bewildering and frustrating one in 2030.
We believe there are 6 crucial areas that need to be developed and implemented with design-led thinking:

1. An uneven, weak network
According to figures by Field Dynamics, the installation of charging points is incredibly uneven throughout the UK and no way near fit for purpose to meet the 2030 target. Greater London has by far the most public chargers and the South East, particularly around Brighton and Hove and Scotland are a distant second and third respectively in terms of public charger numbers. Northern Ireland and the North West have the fewest.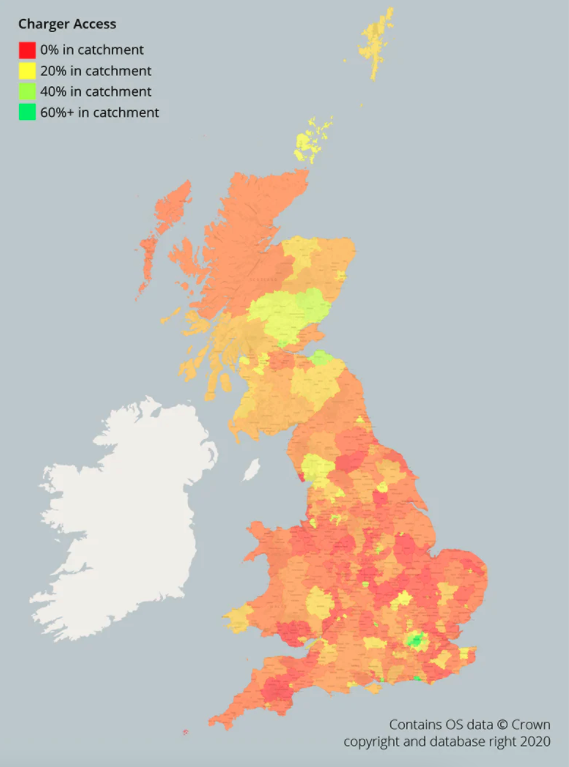 Charging point installation is just not keeping pace with EV sales. According to a report in October 2020 by the European Automobile Manufacturers' Association, sales of EVs had increased 110% over the previous three years in Europe, but crucially the number of public charging points had grown by just 58%.
That disparity needs to change and quickly.
We also need a stronger rollout of fast chargers in the right locations. Many of the legacy chargers are too slow to be useful for mid-journey charging and are only useful for longer parking or overnight.

2. Home & off-street charging
Research by street charger company Connected Kerb has revealed that 67% of EV owners wouldn't have bought an EV if they didn't have home charging to provide this capability. The ideal scenario for owning an EV is to have a driveway and home charging as anyone with this combination can leave their house with a full charge and only ever use a public charger occasionally.
But that's where reality bites, as nearly two thirds of households in the UK don't have access to a driveway where a charger could be installed. Even with some of these do having access to private parking it's still in a shared space which makes installing and operating a charger extremely difficult.
In the UK, the trend for not provisioning for those without driveways looks likely to continue for years to come as demonstrated by a report by UK energy company Centrica, which revealed the perplexing reality that UK councils are only planning to install 35 chargers each by 2025, on average. This does include variation across the country, with London and the South East faring better than other regions - as indicated above - but no councils in Northern Ireland were planning to install any chargers at all in the next four years.

3. Accessibility & Charging Points
Many charging points simply lack cover and good lighting and are not designed to be inclusive of those with accessibility needs, with many having displays and controls situated at "standing eye height" with the chargers and unwieldy cables being clunky and awkward to operate.
Along with design of the chargers themselves needing to be inclusive and to provide access for all needs, there needs to be clarity on and assistance with how to use the different chargers. Given the current lack of reliability of the charging points themselves, there needs to be a fully accessible option to speak a human 24/7 if they encounter problems using the charging point.

4. Payment & Open Access
The Geniepoint Network that currently accounts for nearly 1 in 10 of all chargepoints in the UK allows contactless payment on only 15% of its network and has continued to build rapid chargers through 2022 and 2021 that do not take contactless payments. The system today is a myriad of RFID tags and subscription-led apps that make using EV charging a challenge - who wants to be standing in the rain trying to register their payment card on yet another app when they just want to get charging?
This needs to change and payment needs to be simple.
There needs to be one method of payment for all: one app, one RFID card and one account that allows you to access all networks and recognise wherever you are. The ability to tap and pay using a credit or debit card is an essential, not a nice to have, on all charging points. A straightforward and universal payment system would be a monumental step to creating a sustainable electric car ecosystem.
What's noticeable right now is that certain brand-specific networks have made large strides is providing for their customers. Tesla's charging infrastructure has rightly drawn admiring glances from other EV brand owners, with some of the fastest, most abundant and affordable chargers in place. But these are all locked off to one brand. The government needs to work with companies like Tesla to ensure that more chargers are open to the UK public.

5. Signage & Information

Finding charging points right now is not straightforward and if the infrastructure is to become a success, then we need clearer and instantly recognisable signage systems to identify if there are charging facilities in place at fuel stations, for example. At the moment, this most definitely is not the case.

Are the chargers reliable and working? Are they in use? What type of charging plugs are on offer? Do you have to pay for parking?

Basic questions like these need clear, efficient answers. Some of this data is currently provided by the likes of third parties such as ZapMap but this data is crowd-sourced and not 100% unreliable. In the same way, information around pricing before you enter the forecourt/charging station that we currently have for petrol, diesel and LPG, will be crucial for consumers in order to make informed choices. Most EV owners accept that, at the moment, journeys need more planning than for conventional cars - but better information helps and having updates during your journey allows more pain-free replanning when necessary.

Allied to that, there needs to be clear, up-front Information about different charge costs and speeds - i.e. how long it will take to charge depending on the type of charger you use. According to Which, to charge a medium-sized hatchback with a typical 'fast' 7.4kWh charger would leave you waiting nine and a half hours versus 35 minutes with the 'ultra-fast' 100kW DC charger. The difference is stark and could have severe repercussions for EV owners and demand for charging points alike.

Where stays are short, faster chargers make more sense and alternatively where stays are longer such as at a car park/park &ride scheme, slower chargers wouldn't be such a hindrance. Without sound infrastructure planning, fast chargers could become blocked up by someone parking, charging and leaving their car there all day. The right charger has to be in the right place.

6. Incentivising & Looking after the Customer

Despite the diesel and petrol ban getting ever closer, incentivising the consumer through schemes like loyalty cards will need to be in place to speed up the uptake of EVs.
Going hand in hand with incentivising EV users, there will also need to be active deterrents or fines for ICE (Internal Combustion Engine) vehicles blocking or parking in spaces reserved for EVs.

To really entice people to go electric, the whole customer experience of charging your car needs to be more enjoyable than filling up with diesel or petrol. Currently, often charging points are a box in the corner of a carpark, unlike the petrol/diesel pumps that are covered by canopies, for example.
These are just a few of the areas we believe the government, local authorities and commercial providers will need to make massive progress in before 2030 as electric car ownership can't just be for those with off-street parking and an at-home charger.
Written by: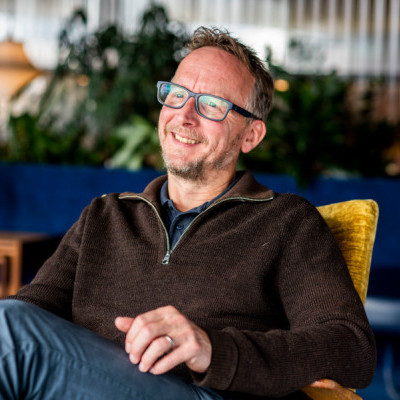 David Watts
Managing Director
David is our Managing Director with over 20 years of practice as a Human Factors and design consultant. He has delivered projects across sectors including rail, O&G, airports, utilities and the emergency services. He has worked with clients such as Network Rail, Siemens, easyJet, WSP, National Express, TfL and HS2.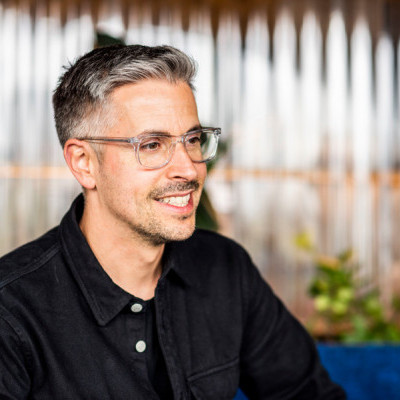 Oliver Bennett-Coles
Head of Marketing
Oliver has over 15 years worth of global marketing experience, managing marketing and new business teams in advertising, media, brand strategy and fast-growth software companies.