Our Services
Design that connects us
We help our clients reach new markets and meet new customer needs using the power of virtual, augmented and mixed-reality technology. We use this technology immerse users in the environments we are creating to test and feedback their thoughts and feelings. We've used immersive tech as part of our approach to co-creation with award-winning results.
Our philosophy of human-centred design is built on a belief that bringing the end user into the design process earlier is crucial for successful results.
We recognise that quite often traditional design artefacts like plan drawings are often difficult to understand. Technologies like Virtual Reality (VR) and Augmented Reality (AR) have provided new ways for us to immerse wider stakeholders into concepts and prototypes, to test, iterate and evaluate the services and experiences.
VR and AR have established themselves as great technologies for visualising ideas and environments as part of the journey towards a set of completed designs. We want to bring that forward and use them to explore the problem, to engage end users earlier in the co-creative process, and exploit the potential these tools offer to do this faster and more effectively.
We have a proven track record of using immersive technology to create adaptable 3D models to co-create with our clients, to bring a space to life, to experience it and assess how users interact with the space and use the feedback to build potential design interventions.
Mima believes in blending technologies together in this immersive world - like eye-tracking and emotion-sensing for our award-winning wayfinding work for HS2 - this can create powerful outcomes. We look to create ground-breaking integrations with other technologies, like point cloud surveys of spaces, BIM, digital twins and 3D scanning, so we can develop new innovative methods and approaches to create meaningful results for our clients.


Immersive tech with award-winning consequences for HS2
Mima are pioneers in the world of immersive design and user testing. Our award-winning Virtual Reality (VR) project with HS2, blended eye-tracking and emotion sensing within a full-scaled digital twin to test and feedback in real-time with a range of end users. Between 2020 and 2021, Mima designed, built, developed and engineered a set of scenarios through VR trials and testing.
The scenarios brought to life the wayfinding system for Old Oak Common Station, one of the multimodal HS2 stations currently in development. Over the course of two weeks, with many months of design methodology, digital and technical developments, plus our wayfinding design experience, we then invited 80+ participants, including those with lived experience, to complete a set of scenarios within the Old Oak Common VR station.
The custom VR experience was built and optimised by Mima's technical team, in close collaboration with the service design and wayfinding teams.
The VR trial recorded the qualitative responses of the participants along with emotional and eye-tracking quantitative data. As a result of the success of this first trial, in 2022, Mima were re-commissioned by HS2 to conduct a further VR trial to test the line-wide wayfinding strategy and design.
Video footage from our latest testing can viewed here


To find out more please contact our Head of Experience Design, Phil Nutley (E: phil.nutley@mimagroup.com)

Highlight Case Study – Immersive Technology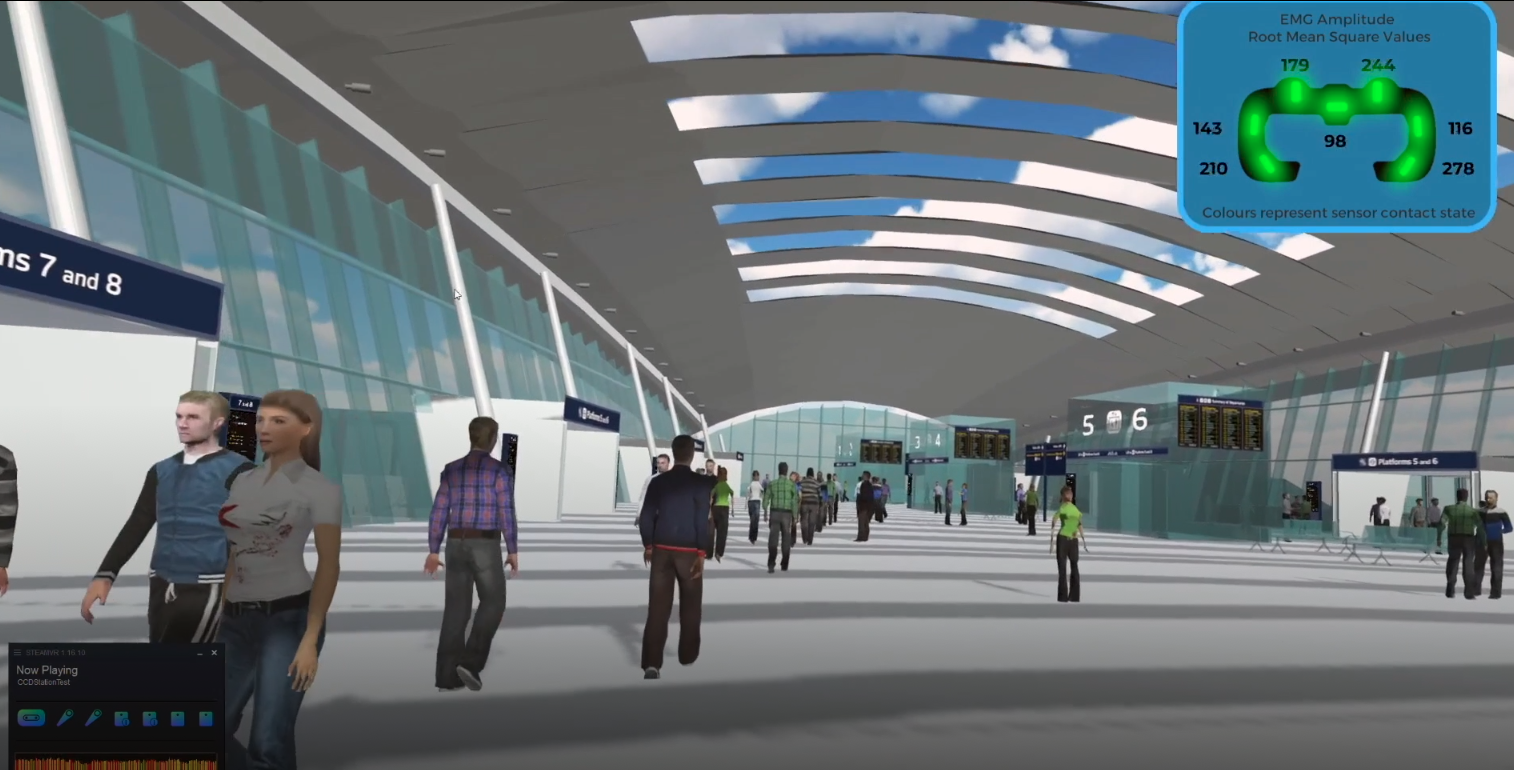 HS2
Mima and WSP were commissioned by HS2 to develop a new tool to test various aspects of the customer journey, with a particular focus on wayfinding. Using a unique combination of virtual reality (VR), eye-tracking and emotion-sensing technology, we developed a sophisticated tool to trial human responses and engagement with the proposed environment of Old Oak Common station, to gain a deeper understanding of the navigational prompts needed to allow all users to visually interpret their surroundings and to make informed decisions.